Vintage Aviation News is a company founded by a group of passionate aviation enthusiasts who love the history and technology of Aviation and Flying Museums preserve for the public. It is our intention to play a role in safeguarding the heritage of these beautiful machines by providing increased awareness and education through the use of internet based digital media.
Our Story
In 2013, the internet was already a mature medium, its business strategies well-proven and consolidated, with the proven ability to raise billions of dollars online – and yet the warbird and vintage aviation community seemed almost entirely absent from this opportunity for growth. Back then our founder Moreno Aguiari was an executive within a large internet-based software company. He possessed over fifteen years of online marketing business development experience; all I had to do was apply this know-how towards the vintage aviation industry. And so Warbirds News was born…click HERE to read the rest of our story
The Team
Moreno "Mo" Aguiari – Publisher & Founder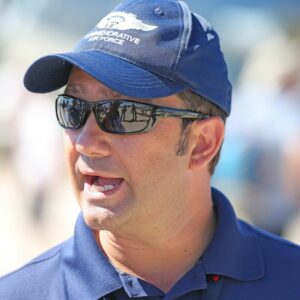 I was born in Milan, Italy, and moved to the U.S. in 1999 to become a commercial pilot. My passion for aviation started at a much younger age when my uncle, an F-104 Starfighter Crew Chief with the Italian Air Force, and avid model builder, gave me a 1:72 scale model of the mighty Lockheed interceptor. Listening to his aviation stories, visiting him on base, and meeting Starfighter pilots sealed the deal. My dad was also a military traffic controller but his influence also happened in another area – namely AC Milan, the football club, which became my other passion in life. As a student, I often skipped school to go camping outside military bases and wait for airplanes to take off or land. As soon as my parents would let me ride the bicycle to the local park, I often took a diversion and rode to the Aeroporto Linate (Milan's city airport) and I spent hours outside the fence looking at airplanes. In 1999 I decided to pursue a career in aviation so I moved to Atlanta, Georgia, to obtain a commercial pilot license. What was supposed to be a short visit of a few months turned out to be a new life and new citizenship. After 24 years in the United States, my passion for aviation had never dulled. I am fortunate to be involved with the Commemorative Air Force, the D-Day Squadron, EAA Warbirds & Vintage, and several other organizations allowing me to fulfill my passion for aviation with amazing experiences, and enable the success of Vintage Aviation News. Today I am a full-time pilot flying for a Part 91 business aviation company in the Atlanta area. I have three beautiful children and a great wife who understands my passion for aviation and never complains about my adventures!
Richard Mallory Allnutt – Writer and Photographer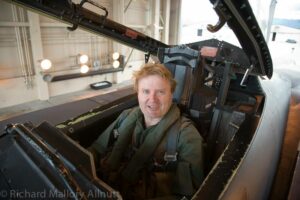 My first aviation memory involves a family trip to the Farnborough Airshow in September 1974. A pair of Saab Viggen strike fighters had just taken the active for a formation take-off a few dozen yards away. I watched them sidle into position, slightly disinterested, from atop my father's shoulders under the gloom of that drizzly, autumn day. But the instant their afterburners lit – everything changed. Nearly a half-century on, I still recall the distinctive howl of those RM8 turbofans; a sound so intense it seemed to physically rip the air apart! My world then tilted rapidly towards aviation – some days with wider orbits than others, perhaps, but my passion for flight has only intensified.
As a child living in 1970s Britain, I grew up steeped in WWII aviation lore; so many adults in my life had participated – from grandparents working in aircraft factories, to a headmaster navigating Lancasters, and of course my aunt's father, who flew Hurricanes with RAF 302 Squadron during that fateful summer of 1940. So the allure these aircraft held was impossible to ignore, even if from afar. After my family's move to Washington DC, more tangible aviation-related experiences arrived. July 20th, 1979 marked our first full day in America, a date so easily recalled because we visited the Smithsonian's National Air & Space Museum (NASM) just as 10th-anniversary celebrations for the Apollo 11 moon landing got underway; all twelve lunar astronauts walked right past me as they entered the building! Thereafter, we attended NASM events regularly, meeting and talking with dozens of people I had only read about before – legendary figures ranging from Chuck Yeager to Sir Frank Whittle. I later earned a NASM internship, working for R.E.G. Davies with Dr. Robert van der Linden, but getting to spend a time with Paul Garber, the man who founded NASM's collection, was the highlight of that summer.
After grad school, I worked for Lockheed-Martin as a satellite communications engineer, but my heart still lay in aviation. I volunteered at several museums, and crewed for a period aboard my friend Larry Kelley's B-25J Mitchell Panchito – gaining some marvelous air-to-air photography opportunities on occasion. My journey into writing and editing began through these latter experiences. As I gained photographic proficiency, magazine editors asked for stories to accompany my work. And as my writing skills grew, I soon gained requests to produce articles for other people's images.
In 2013, Moreno Aguiari recruited me to become founding editor for Warbirds News. Growing our profile has been hard work, but deeply rewarding too; I especially love helping grass-roots aviation groups gain better traction for their efforts in the public eye. With our name change to Vintage Aviation News in mid-2022, we expanded our horizons to include a broader range of topics. The highly accomplished additions to our editorial team and list of regular contributors that fall has further reinvigorated our mission. As I type these words in March, 2023, I find myself almost incredulous with the reality of my quarter-century career as an aviation writer/editor/historian, with some 800 articles in print, and many more online. But it is the people this work has connected me with which has meant the most. It is a joy and an honor to be a part of this effort as Vintage Aviation News moves forwards!
James Kightly

–

Commissioning Editor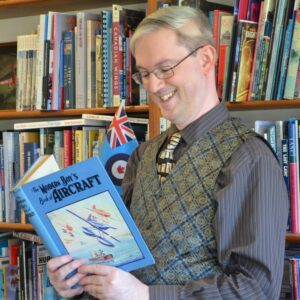 I'm from Melbourne, Australia, and my first visit to an aircraft museum was the Moorabbin collection in the late 1960s, as a small boy. I lived in the UK for several decades, before returning to my native Australia in the early Twenty-First century.
For more than thirty years I've written for aviation magazines both newsstand and subscription and published in the UK, US, Australia, and even France. Currently among other roles, I'm  a feature writer for Aeroplane Monthly in the UK, recently edited and advised on major titles for the Royal Australian Air Force (RAAF) History & Heritage Branch, and the National Aerial Firefighting Centre.
I've interviewed aviation, museum and many other professionals and volunteers in historic aviation worldwide, including face to face in over 15 countries, and maintain a network and contacts list of over 1,000 people, regularly spending time connecting people for remarkably specific preservation queries.
In recent years I've been part of a team running the Aviation Cultures conferences, recently online and global. I also work with professional archaeologists, and flown in some unique historic aircraft such as the Canadian Warplane Heritage's Lancaster, the Lufthansa Junkers Ju 52/3m, Colling's Foundation's B-24 and the RAAF 100 Squadron's Lockheed Hudson, and flown out of EAA AirVenture Oshkosh in the back seat of a CT-133 from underneath the airshow.
I'm delighted to be able to work in Vintage Aviation News, and as well as making sure we get accurate, properly researched and checked news and in depth aviation history articles and features to you, our readers, I'm very keen we bring you more in depth analysis and insights, behind the scenes and from the workshops, museums and show where other organizations don't take you. And we'll be reporting from the familiar countries, or course, but also those less often reported from!
Outside aviation, I've worked in the book trade for even longer, and have fulfilled most roles from author to reviewer, and for Blackwell's Bookshops in the UK, ran and troubleshot several multi-million pound businesses. I have also worked professionally in museums including the hardest job – as a cleaner, and running heritage learning centres and museum volunteer teams.
I'm a long term support of the Moorabbin Air Museum in Australia, where my interest started, and the unique Shuttleworth Collection in the UK, as well as many professional and heritage organisations. I live in rural Victoria, Australia with my wife and dog, and I'm lucky enough to be regularly overflown by friends in their vintage aircraft for an obligatory wave!
Adam Estes – Researcher/Reporter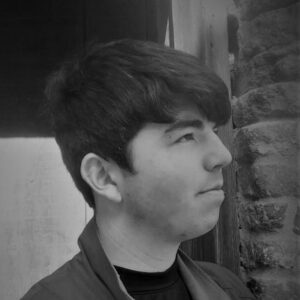 I was raised in Fullerton, California, and I am currently on the path to earning a Bachelor's degree in History. Even before I could remember, I have been fascinated by aviation history, and after starting with books, VHS tapes and DVDs of documentaries and scale models at my disposal, I have been fortunate to have been able to visit several air museums across the United States, from the National Air and Space Museum to the Pima and Space Museum, National Museum of the United States Air Force, and the San Diego Air and Space Museum among many others. I am also a volunteer for the Planes of Fame Air Museum in Chino, where I am a docent and a researcher. At Chino, I have also gained hands-on experience with aircraft maintenance and detailing, and hope to eventually get my very own pilot's license. I have what has been described as an encyclopedic knowledge of aviation history. What particularly interests me are the stories of individual aircraft themselves, not only about the crews who manned them, but what these planes did in postwar settings and how they came to be part of museums or kept in operation by their current owners. In addition to this, I have become very active on several online communities, and highly value sharing my works with the widest audience as possible, and hope to encounter further opportunities in the field
Angela Decker – Reporter / Social Media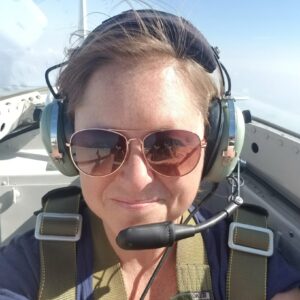 I was born and raised in McPherson, Kansas, just 50 miles from "The Air Capital of The World", Wichita, Kansas. I actually grew up around the roar of naturally aspirated engines, with vintage cars, car shows, and vintage drag racing of all kinds being part of my world from birth. My contacts in vintage drag racing remain many and on occasion that world and my vintage aviation world weld together for various events. My love for aviation actually began after I received my Masters Degree in Military History from Norwich University in Norwich, Vermont in 2011 – the nation's oldest private military college and birthplace of ROTC (Reserve Officers' Training Corps).
A desire to volunteer in a field related to military history brought me to vintage aviation in 2012. Through a willingness to take on any task and a gift for a turn of phrase, I have had the opportunity to work with many vintage aviation and vintage drag racing groups as a social media collaborator or coordinator in those 11 years since. From a fleet of C-47s, to a hangar of WWII military flying gems, to onsite event content, to historical stories worth saving for generations to come, I have spun a tale, trained staff, consulted with start-ups, and generally found a niche for myself as a sought after social media content creator.
I have also had the opportunity to coordinate and co-chair several aviation or World War II events, go on the road with flying World War II aircraft, appear as Rosie the Riveter at various events, and am currently working on a restoration team that is restoring a Stearman as a tribute to Rosie the Riveter. I also currently serve as the Operations Logistics Coordinator at CAF Airbase Georgia.
My greatest accomplishment in life remains my son, Caden, who is currently in college completing a degree in Digital Media Arts with a wide array of talents in design, programming, and content creation under his belt. He also maintains a love for aviation and history in general, having grown up working in our maintenance shop at Airbase Georgia and volunteering at events. I work as an accountant as my day job, with my undergraduate degree in Economics from the University of Georgia. I am also an accomplished musician who has been singing and playing the piano since I was five and playing the flute since I was ten.
Nigel Hitchman – Roving Reporter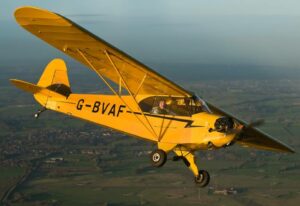 I grew up in Farnborough, Hampshire, England, home of the major airshow. My earliest memory was of a formation of de Havilland Sea Vixens doing aerobatics in 1968. By the 1976 airshow, as a 14-year-old plastic model building kid on summer holidays, I was down at the fence every day for the arrivals and practice. People kept asking me what each aircraft was, so I started noting the registrations to tell them, which started a long interest as an 'aircraft spotter' and later, becoming a photographer – continuing to this day.
We soon started going further afield to airshows and fly-ins including Europe, and then in 1984 with my best mate, Paul Kiddell, we did our first trip to Oshkosh. This was a real eye-opener, with so many friendly people, and flights offered. We went to Oshkosh for warbirds but were amazed by the antiques and Classics. We found out about the following Blakesburg fly-in, so loads more rides, and met many more lifelong friends.
For 1985's Oshkosh I stayed with (the late) Pete Heins in Dayton, and had a flying lesson with a friend of his. When I met Pete again at Oshkosh he presented me with 'my' logbook with my first lesson signed off, so no stopping now!
I was seconded from British Aerospace Design Office to Airbus in Toulouse, France in 1987 – a fantastic opportunity. I stayed for 9 years traveling all over the world to Airbus customers, and of course, visited local aviation museums and airfields. Flying was cheaper in France, so I did a lot more, visiting many places and fly-ins, including an annual trip back to the U.K. for the PFA Rally.
In 1995 I moved back to the U.K. and took my ATPL (airline transport pilot license). I first flew the ATR, ending up on the British Airways Boeing 777; another great way to visit museums and fly-ins around the world! I took early retirement in 2000 and am now free to travel to many fly-ins and also fly my own Piper J3 and Vans RV6.
I started writing about fly-ins to go with my pictures back in the 1990s, mostly for Popular Flying magazine (now Light Aviation). I edited a column on new U.K. homebuilt projects and restorations, and still regularly contribute, I'm also a long-time regular contributor to the 'Old Timers' section in the UK's Pilot Magazine as well as supplying photos to other magazines when asked.
Stephen "Chappie" Chapis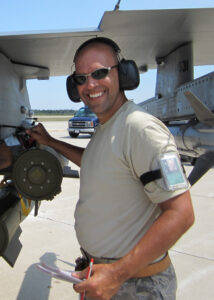 My earliest aviation "memory" is sitting on my grandmother's lap in the right seat of Sundowner N2118W on August 20, 1975, at Easton-Newnam Airport, Maryland.  In the left seat was my grandfather and as my grandmother recounted many times over the years, my grandfather told me to put my hands on the yoke and as I did, he rotated and suddenly I was flying.  I was hooked.
Growing up, I built plastic and R/C models, and read every aviation book and magazine, including Air Classics, which usually featured a beautiful air-to-air photograph of a warbird.  Often times those pages would end up on my bedroom walls and I'd wonder how the photographer captured such an image and dare to dream that I could do it someday.
Among the airshows I attended two in the 1980s standout in hindsight.  The first was Oshkosh '82, where I took my first aviation photograph with a Kodak Disc camera and where I first became smitten with warbirds.  The second was in 1987, when my dad and I flew in an R/C scale meet at the Flying Circus Aerodrome (FCA) in Bealeton, Virginia.  It was on that hot August day, that I got my first taste of aerobatics during a ride in a 450-hp Super Stearman.  Twenty-eight years later, thanks to FCA pilot/wing-walker Chuck Tippett, I got my tailwheel sign-off in a J-3 and that very same field of grass.
In 1990, after years of using various point-and-shoot cameras and/or commandeering my dad's Minolta XD-7, I bought my first "real" camera- a Minolta Maxxum along with a 70-200mm zoom lens and a 400mm prime.  It was with this camera that I learned a little about aviation photography.  However, until my first article was published in Combat Aircraft in 2007, my photos would simply end up in a photo album that would gather dust in a closet.
In 2008, two significant events launched my writing/photography career.  First, I discovered Warbird Digest magazine, and soon after my first of nearly 140 articles to appear in that magazine was published.  Second was meeting and flying with Charles Lynch, who opened the door and invited me into the warbird community where I began meeting and flying with a wide variety of warbird personalities.  By 2009, I had become a regular contributor to Warbird Digest, was appointed Associate Editor by Greg Morehead in 2014, and was recruited by Moreno Aguiari to write for Warbird News in 2015.  In addition to my work for Warbird Digest and Warbird News, I've had work published in Aeroplane, Aviation News, Combat Aircraft, EAA's WARBIRDS, FlyPast, Golden Pylons, Prop Noise, Red Alert and World Airshow News.  In 2017, my first book, ALLIED JET KILLERS OF WORLD WAR 2, was published by Osprey Publishing.
In my other life, I have been an Emergency Medical Technician for twenty-three years and currently work at Georgetown EMS/Station 93 in my hometown.  In addition, I served twenty-one years in the District of Columbia Air National Guard as an F-16 bomb loader.  During that time, I participated in several exercises including Air Warrior, Green Flag, Snowbird, and Cope Thunder, and deployed to Azraq, Jordan during Operation Iraqi Freedom in 2003.
And of course, none of the above would be possible without the love, encouragement, and support of my wife, Germaine.